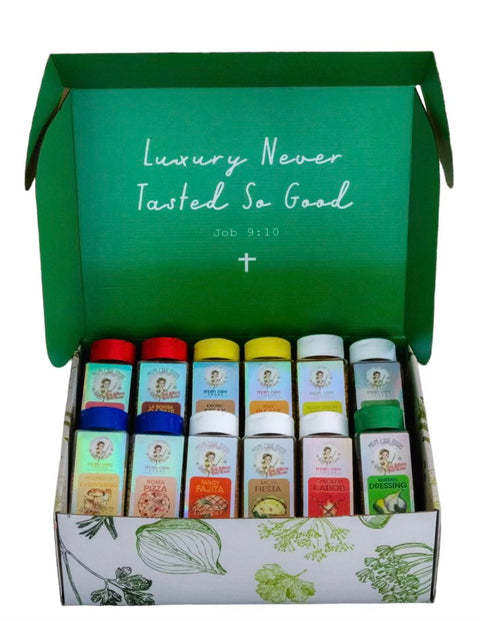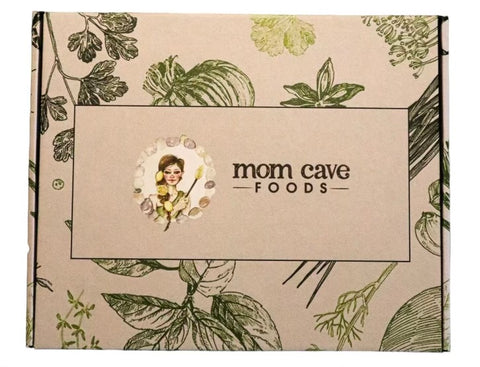 MOM CAVE FOOD
Herbliciuous Variety Box
Elevate your culinary creations with this treasure trove of 12 popular seasonings blends that will awaken your taste buds and inspire your inner chef. From Italian basil to Syrian gems, each herb-packed vial is a passport to a world of delicious possibilities. Get ready to sprinkle, savor, and sprinkle some more, as you embark on a savory journey that will have your dishes dancing with flavor!
Box includes:
Mild Aleppo Pepper 4.7 oz
Mother of Everything 6.7oz
Exotic Steak 5.6 oz
Fish Please 6.4 oz
Sour Lemon Pepper 7.3 oz
Chimichurri Ch Cha 3.9 oz
Taco Fiesta  5.7 oz
LA Bomb Carne Asada 5.6 oz
Fancy Fajita 7.3 oz
Roma Pizza 2.7 oz
Chicken Kabob 4.6 oz 
Queens Dressing 3.6 OZ
.