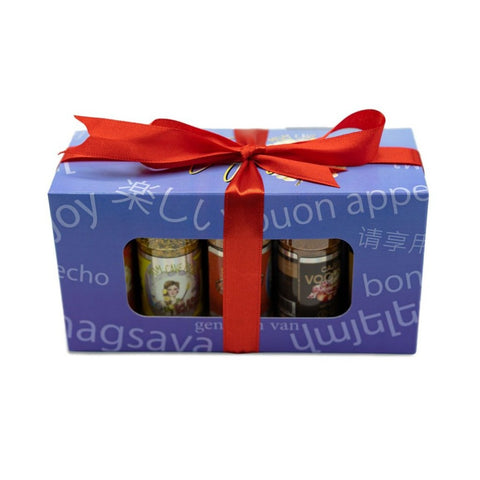 MOM CAVE FOOD
Enjoy Collection ~ 10 pack sample set
Enjoy our ten most loved spice blends harvested from around the world with only the purest ingredients NON-GMO, NO MSG, All Natural, Keto friendly, No fillers, No sugar, low salt.
Our Enjoy collection Is the perfect Holiday gift for anyone who enjoys the love of spice in the kitchen and in life. 
Box includes spice bottle size 2oz each spice has its own density and weight will vary.  
•Sour lemon pepper (1.7 oz) 
•Mild Aleppo ( 1.0 oz)
•Queens Dressing  (1.0 oz)
•Chicken Kabob ( 1.5 oz) 
•Fish Please (1.7 oz )
•Cajun Voodoo (1.8 oz) 
•Lemon Garlic (2.1oz)
•Exotic steak (1.6 oz)
•Fancy fajita (2.0 oz)
•Taco fiesta (1.3 oz) 
Made with RARE & IMPORTED spices from all around the world.  
Gluten Free/ No Msg / No Added Sugar/ All Natural/ Keto Friendly/ Vegan